She's back.
The fiery and exuberant yet loving-leader of the United States Solheim Cup team is back to lead the U.S. in 2019.
Juli Inkster will captain the team for a third consecutive go-round, it was announced Tuesday on Golf Channel.
Inkster led the U.S. to a 16.5 to 11.5 victory over Team Europe in Iowa and got the U.S. back on the right track in 2015 with the epic Sunday comeback in Germany to win 14.5 to 13.5.
Here are five reasons why it's a no-brainer to have Juli lead the troops for a record third time.
1. The players LOVE her
The most successful dynasties in sport have a common thread: high-quality leadership. Think about it. The 1990s Chicago Bulls had Phil Jackson, the current New England Patriots have Bill Belichick, the Boston Celtics of the 1950s and 60s had Red Auerbach and the Packers of the 1960s had Vince Lombardi. Of course those teams also had stars like Jordan and Brady and Russell (Bill for you younger readers), but the leadership at the top was paramount. While the Solheim Cup is different since it's every other year, Inkster provides the continuity and motivation needed to succeed.
Just ask Cristie Kerr, a veteran of eight Solheims.
"I'm beyond excited to have Juli as the Solheim captain again. She's an American star and a legend of the game. She has a chance to do what no one else has done before, and I believe she's earned that."
In the post-win press conference in Des Moines, Brittany Lang may have summed up the admiration for Inkster best.
"We grew up watching her dancing around the green, winning majors and playing in Solheim Cups. So she was our hero — is our hero."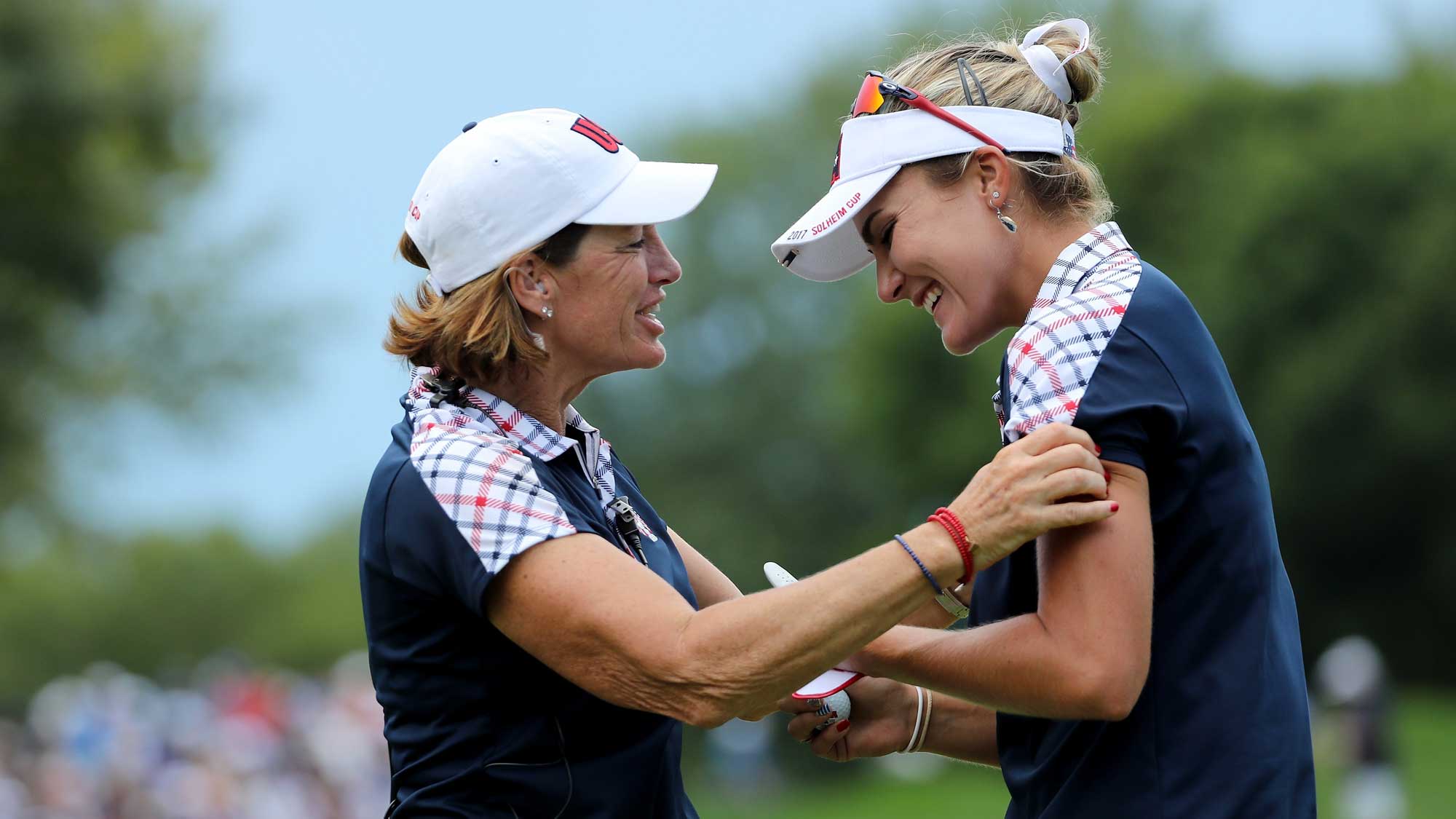 2. Why put an end to something that's working so well
In 2015, she was the architect of a comeback that will be talked about for eternity. With the U.S. seemingly down and out, Inkster inspired nine wins of the 12 Sunday singles matches to come from a 10 to 6 deficit to reclaim the Solheim Cup. Then, in 2017, Inkster's squad was dominant and won 16.5 to 11.5.
It's unchartered territory in that Inkster will be the first three-time U.S. captain, but why not. She was so good as a player in the Solheim Cup (15-12-7) and was part of five victorious teams.
Until Inkster no longer wants to do it or the team is no longer winning, she's the obvious choice.
She also really understands the players. The "pod" system she developed in 2015 was the talk of all of the press conferences. Lang and Lincicome, Wie and Kang, Kerr and Thompson. The players seemed to really bond and excel in the different pods that Inkster formed. Then, the motivational tactics. The metal lunch boxes in Germany and the hard hats in Iowa.
It all works so no need to change.
3. She knows the Tour better than anyone else
The 2019 U.S. Solheim Cup team could look markedly different than the 2015 and the 2017 teams. There is nobody better suited to select a team than Inkster, who still plays on Tour and is consistently around the players. Will the old guard still be around? Will staples like Paula Creamer, Cristie Kerr, Stacy Lewis, Brittany Lincicome and Brittany Lang qualify in two years? You figure that Lexi Thompson, Danielle Kang, Angel Yin, Michelle Wie and Lizette Salas are here to stay for now. There may be some new names like Nelly Korda, Brittany Altomare and Marina Alex that emerge. Maybe a current rookie like an Emma Talley is ready for the Solheim Cup in a couple years.
Captain's picks are critical and Juli has done a masterful job with them. Let's look at 2017 when she made a somewhat controversial decision to bring Paula Creamer on the team when Jessica Korda announced she couldn't play due to injury. Creamer went 3-1 in the Solheim Cup and helped to bring along rookie Austin Ernst.
Yin went 1-1-1 as a captain's pick and seemed to fit in well with her "pod" of Michelle Wie, Danielle Kang and Lizette Salas.
In general, Juli did a great job with the rookies (Danielle Kang, Austin Ernst and Angel Yin). They went a combined 6-4-1.
"I'm extremely happy that Juli is going to be the Solheim Cup captain again in Scotland," said Yin. "I can't wait to play for her again and help Team USA retain the cup."
4. She's a legend in her own right
There are so many players on the LPGA Tour that look up to Juli Inkster because of how successful she was/is as a player. She won 31 times incuding seven major championships.
Just read what Gerina said after the U.S. won the Solheim Cup last year. The current crop idolizes Juli.
"It's just awesome to have someone like Juli as your captain. When she speaks, you listen. And there's not one word that she's ever told me that I do not let sink in. And for her to sit there on the tee and to have the belief in you to tell you that you got this, I believe in you, you're a great player -- I mean, I'm sure every girl up here would agree that she is a freakin' rock star, whether it's a captain, whether it's a friend, whether it's a player. And I think that's huge for all of us that we look up to her so much that we cherish every moment we have with her and all the words that she gives us."
Paula Creamer may have summed up Inkster's legendary status in the minds of the players best.
"Juli is my role model and the reason I play golf."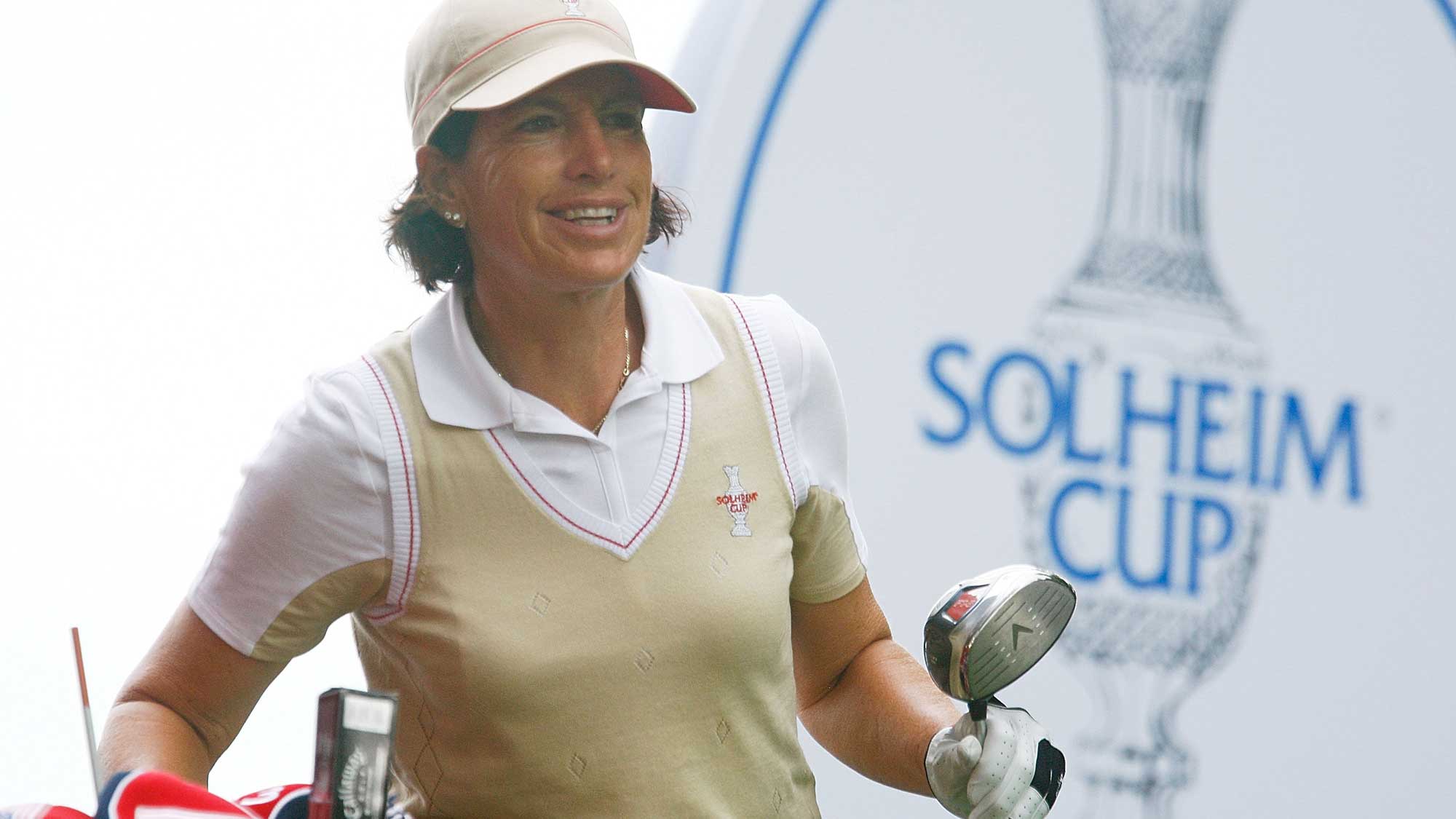 5. Three-peat as a player, three-peat as a captain
The last three-peat in the Solheim Cup came from 2005 through 2009 when Juli Inkster was hitting the shots and leading the U.S. to victory with clubs in hand. In 2009, she halved her Sunday singles match and won her singles matches in 2007 and 2005.
The 2007 Solheim was just the second win for the U.S. on foreign soil (Sweden). Inkster of course led the U.S. to victory in Germany in her first run as captain. Now, with the Solheim Cup shifting to Scotland, she has a chance to be part of a potential fourth win on foreign soil.
Inkster may also have revenge on her mind too. The last time the Solheim Cup was in Scotland in 2000, Team Europe beat a team that Inkster was part of. However, Inkster did lead out the U.S. team on the final day with a 5&4 dominating win in singles against Annika Sorenstam.
Inkster is already a Solheim Cup legend. She cements her name as one of the greatest to ever participate if she can captain a three-peat.