It's hard to believe that we are already about one-third of the way to the finish line in determining the American squad for the 2019 Solheim Cup. But there is still a long way to go – including four more major championships where the points are doubled – before I have to make my two Captain's Picks to tee it up at Gleneagles in September.
The United States and Europe have slightly different methods for picking their Solheim Cup teams. They have three players qualify off the Ladies European Tour points systems; five LET members make it off the Rolex Rankings and then Catriona Matthew gets four Captain's Picks.
Eight of those on the United States team wearing red, white and blue will be determined by the Solheim Cup points list; the next two highest on the Rolex Rankings not already on the team will go to Scotland and then I get to pick the last two players.
I'll be out there a fair amount, both competing in LPGA events and just watching my girls to get a sense of how everyone is playing. One of the events I'm really curious about is a new addition to the LPGA schedule – the Dow Great Lakes Bay Invitational, which ends Saturday July 20, right before the back-to-back majors at the Evian Championship and the AIG Women's British Open.
The fascinating thing about the Dow tournament is that it's 72 teams of two women with rounds one and three played as alternate shot and rounds two and four as better-ball. And while it is not match play, it will give me an idea of who likes playing with each other and how they mesh together.
Cristie Kerr and Lexi Thompson have already said they will play together at Dow. Right now, both of them are qualified off the points list. Maybe the two new moms will be playing together – Gerina Piller and Stacy Lewis. Or how about Lizette Salas and Angel Yin, who played well together at the last Solheim Cup in Des Moines.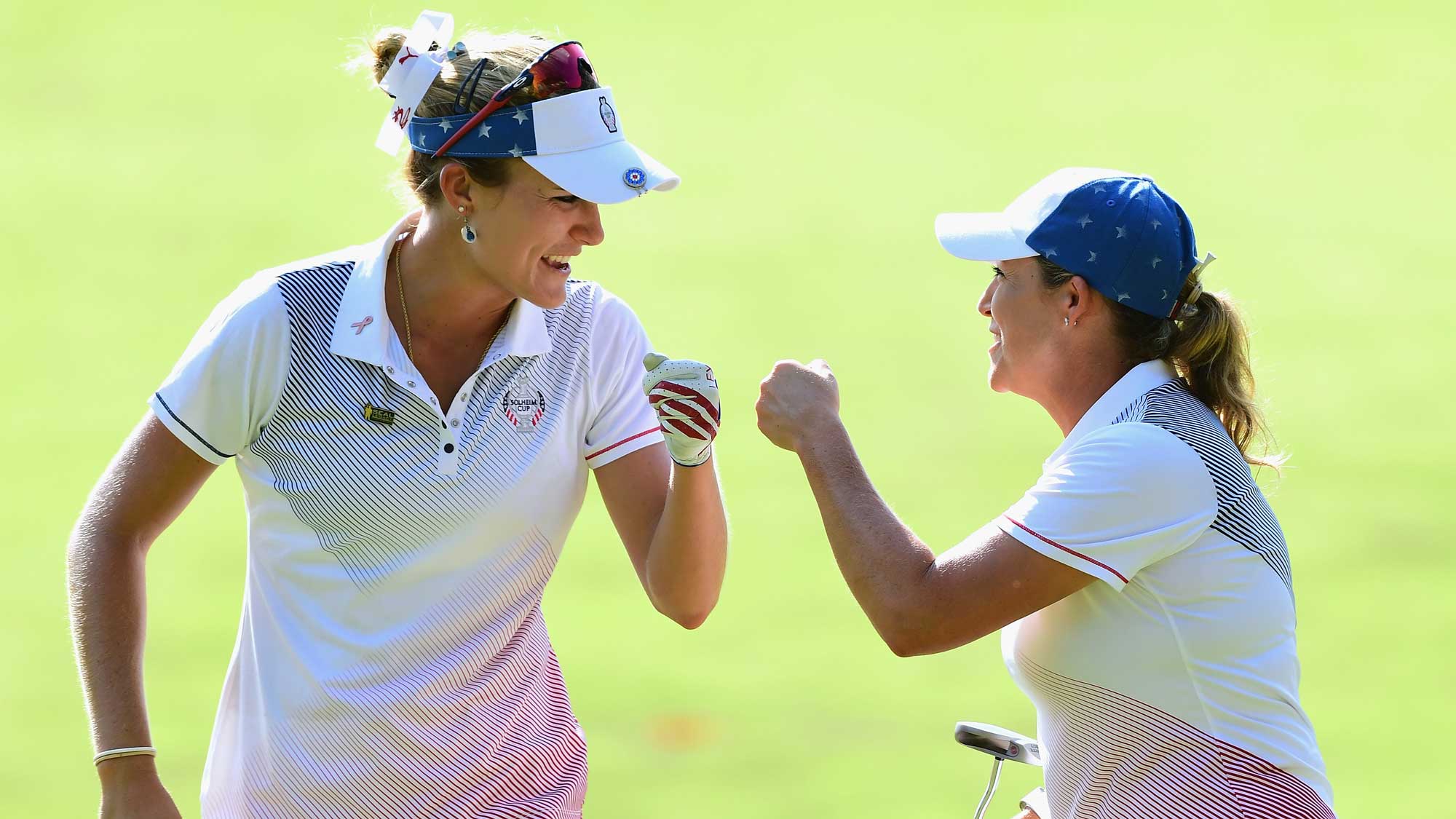 The cutoff date for the American team is Aug. 25, after the CP Women's Open in Canada. Catriona makes her selections a couple of weeks earlier – on Aug. 12, the day after the Aberdeen Standard Investments Ladies Scottish Open.
I think it will be a different sort of team for the United States this time around. First off, I'd rather have four Captain's Picks or none. Having just two is a lot of pressure and it's always hard to break the news to the gals you pass over. But Rolex is such an amazing sponsor and has done so much for women's golf and the LPGA that including the rankings as a criteria makes all the sense in the world.
Since I only get two picks, the way my team is looking now it could be veteran players or brand-new players, everything really is up in the air. I don't know how this whole thing will work out, but I pretty much have four girls who are in off points – the Korda sisters, Lexi and Danielle Kang. But if you look at some of those outside the points list and the Rolex Rankings you have Piller and Lewis, both returning from maternity leave and Michelle Wie, who has missed time with injuries. Looking at my Solheim list, there's a whole group of talented golfers who have to be considered and who would make my job a lot easier.
I get asked all the time if I prefer to have someone who has Solheim Cup experience or someone who is playing really well at the time we finalize the team. My answer is always that I want both. I do know this: We are going to face a tough team from Europe.
They have their staples, like Aza Munoz, Carlota Ciganda and Anna Nordqvist. But we saw a lot of their emerging young talent in Des Moines and they have even more now. I played with Celine Boutier at the Kia Classic and she's a great upcoming player. Anne van Dam is another who has gotten a lot of attention.
They also have players who seem to perform at their best in the Solheim Cup, like Caroline Hedwall, Mel Reid and Charley Hull. It's kind of fun to watch. Sometimes you see that flag and that's all you need to get motivated.
That's part of what makes the Solheim Cup special. The atmosphere is beyond belief. I've been there so much and it just never gets old. I just can't wait to get to that opening ceremony. See you in Scotland!