ANDALUCIA, Spain — The Americans needed to earn at least a single point in the fourball session on Saturday afternoon, and boy, did Angel Yin and Cheyenne Knight deliver. The American duo defeated Solheim Cup stalwarts Anna Nordqvist and Caroline Hedwall 2 up in Match 14, the only outright fourball victory of the week for the U.S. team.
The Swedes won the first hole with a birdie to go 1 up quickly, but a Yin birdie on the par-3 3rd hole evened the score. Hedwall carded another birdie on No. 5 to take a 1-up lead and she struck again with a birdie on the par-5 8th to move the Euros two ahead. That's where things stayed until the Americans landed three consecutive blows on 11, 12 and 13 to flip the match, now 1 up with five to play.
The Swedes couldn't make any headway late, tying holes 14 through 17, and when Yin found the green in two on the par-5 18th and rolled her eagle putt within birdie range, the win wound up being conceded, giving the U.S. team a much-needed point as the other three matches were lost to the Euros. Yin and Knight were fired up about the victory and the rookie/veteran duo will carry that momentum into the final day of matches that will see Yin take on Celine Boutier and Knight face off with Gemma Dryburgh in singles.
"It's so difficult because they were playing great. Hedwall was giving us no opportunities," said Yin. "Let's just say she makes a little bit of a mistake, not even a big mistake, and Anna is right next to the pin so it never really created any room for error. I think on each side we only had one bogey. We had one bogey, they had one bogey. So that just tells you how good of golf we're playing. We only had to make birdie to win the hole and the pars didn't even do anything. It's just tough."
Knight knew that good things would come if they could stay patient while trailing for most of the front nine, and the rookie was right. She'll enter her first Solheim Cup Sunday as one of only a handful of undefeated players after going 2-0-0 the last two days, an impressive show of play from the rookie.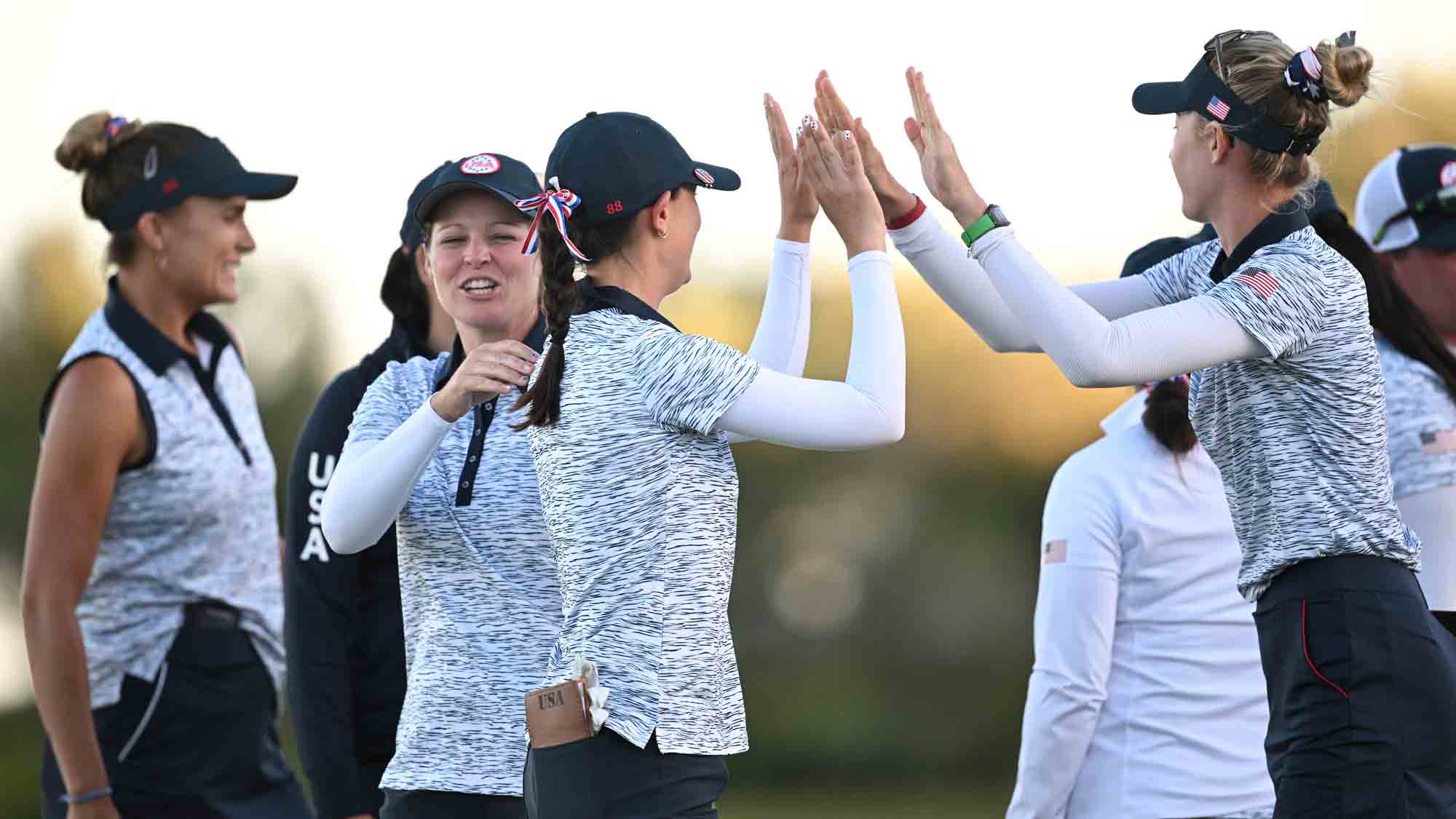 "Me and Angel were kind of down the whole front nine, but 9 we started hitting some good shots. Things weren't really going our way, but we gave ourselves kind of a pep talk kind of on the 11th hole. We won three holes in a row, and then Angel hit some great shots coming in, especially on 15 and 18. That drive she hit (on 18), holy smokes, it was smashed.
"I am 2-0, but I have had the best partners and the best teammates, so I'm very thankful and I had a lot of fun with Angel."
Having played in both the 2017 and 2019 Solheim Cups, where the U.S. won and lost, respectively, Yin knows exactly what it will take for the U.S. team to emerge victorious on Sunday. It will be a challenge, especially with a talented, veteran European team to battle against, but she, like the rest of the Americans and Captain Stacy Lewis, is more than ready for the fight.
"It's good because we're 1 up, we want that point. We want that whole point. Especially in times like this. So that put me in a good momentum going into this 18th hole," she said after the victory. "That one red (on the leaderboard) means a lot, and I mean, in situations like this, at least we got one point up there. So tomorrow it's going to be a grind, but I think we're going to do great."