Before play started this week Juli Inkster said she would be "ecstatic" if the teams were tied heading into the Sunday singles, so who knows how she feels now her team lead 10 ½ - 5 ½ .
This lead comes after Team USA won the Saturday afternoon four-balls 3-1.
Have a look at how the American team extended their lead in Des Moines, Iowa, where Team Europe is left to re-write the history books if they are to reclaim the Solheim Cup.
Brittany Lang and Brittany Lincicome def. Carlota Ciganda and Mel Reid 2Up
It was birdies galore in the opening match of the Saturday afternoon four-balls, with Brittany Lang and Brittany Lincicome opening up with seven straight birdies and an eagle on their way to a 2up victory over Carlota Ciganda and Mel Reid.
Europe mounted a small comeback after falling 3down with Lang's eagle and sat 1down through 10 holes. Solid golf by both pairs pushed the match to the 18th hole, with Lang putting her approach shot to six feet to secure the point for her side.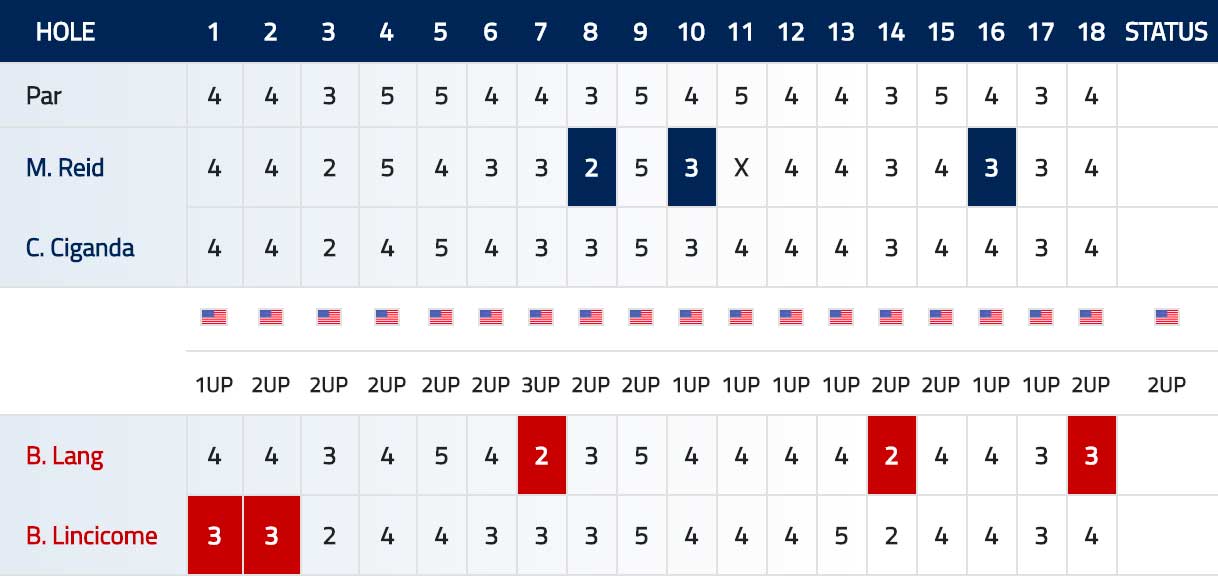 Jodi Ewart Shadoff & Anna Nordqvist def. Lizette Salas & Angel Yin 4&2
Having taken the lead on the second hole, the European pairing of Jodi Ewart Shadoff and Anna Nordqvist refused to let their lead slip as they defeated Lizette Salas and Angel Yin 3&2. This win also maintains Nordqvist's 100% win record in the three matches she has played.
The European duo were 11-under par between them, which left Salas and Yin struggling to keep up. It was exceptional effort that pushed the match to the 16th green. This would be the only blue on the board for Europe in the Saturday afternoon four-balls.
Paula Creamer & Austin Ernst def. Karine Icher & Madelene Sagstrom 2&1
Paula Creamer and Austin Ernst picked up from where they left off in the morning foursomes, as they defeated Europe's Karine Icher and Madelene Sagstrom.
Again, it was another match where the leaderboard was mainly red throughout, with the Americans leading on every hole but two of the 17 holes played. One thing is for sure, Creamer silenced her critics today as she picked up two points for her side, thanks to another impressive performance on the greens. However, the shot of this match came from Ernst as she chipped in on 16 to head to the 17th tee 2up.
Cristie Kerr & Lexi Thompson def. Georgia Hall & Catriona Matthew 4&2
Not only does Cristie Kerr and Lexi Thompson's 4&2 win over Gerogia Hall and Catriona Matthew mean the duo remain unbeaten as a pair, but it also sees Kerr become the all-time leading points scorer in four-ball competition with 11 ½ points scored.
Once again the duo won the first hole and never looked back. Despite six birdies and an eagle from Georgia Hall, Kerr and Thompson still walked off 4&2 winners. The shot of the match came from Kerr on the 15th as she holed her bunker shot for eagle to see them go three up with three to play.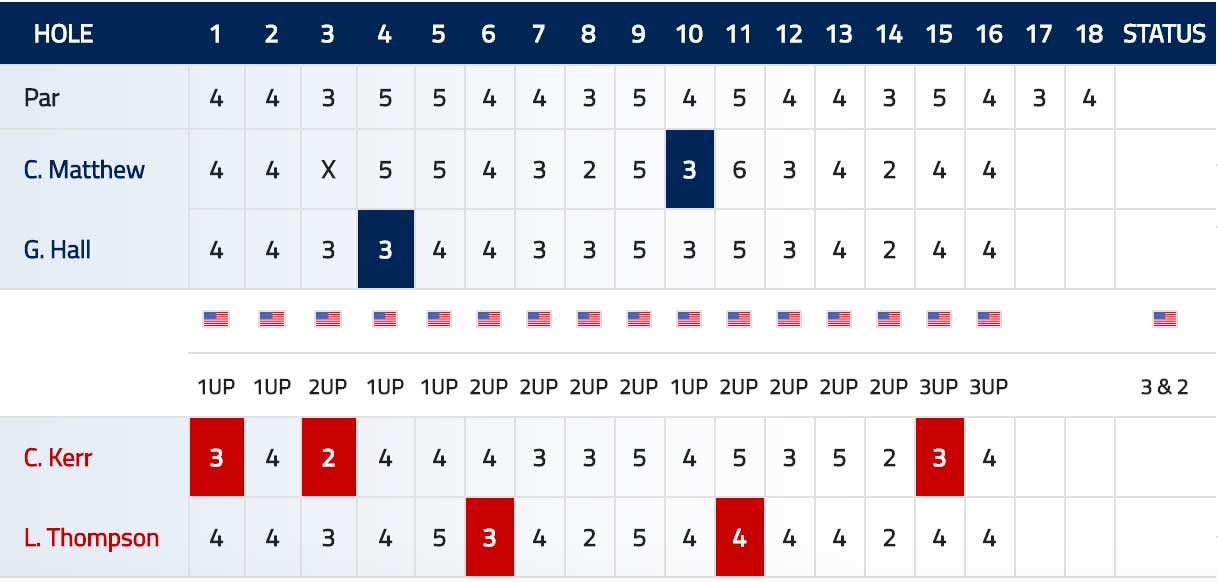 Current score: USA 10 ½ - 5 ½ Europe