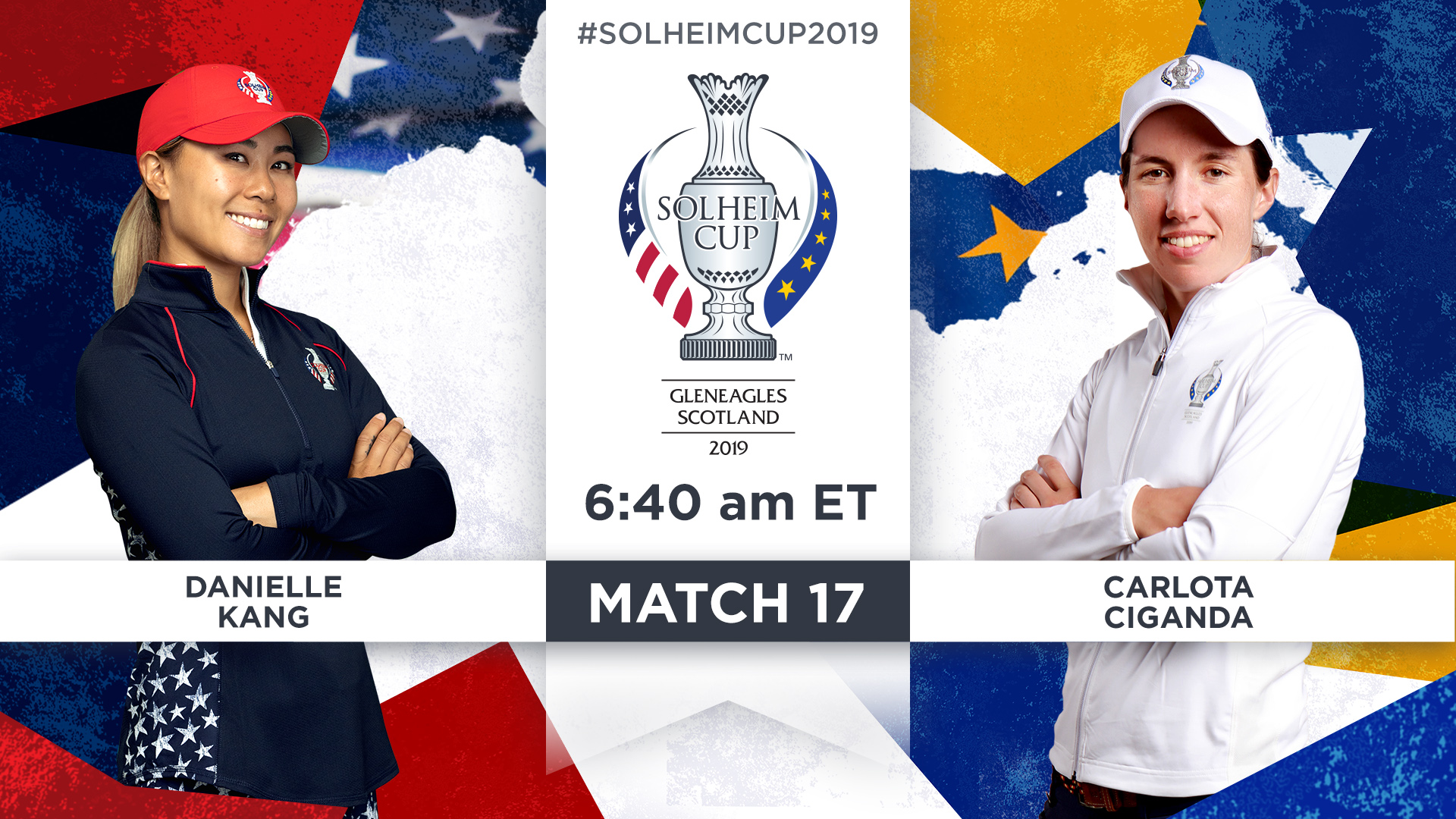 Carlota Ciganda (EUR) vs. Danielle Kang (USA)
Something of a rematch of a thrilling four-ball encounter from Saturday afternoon where Kang, playing alongside Lizette Salas, birdied the 17th hole for the Americans to defeat the Spanish duo of Ciganda and Azahara Munoz 2 and 1.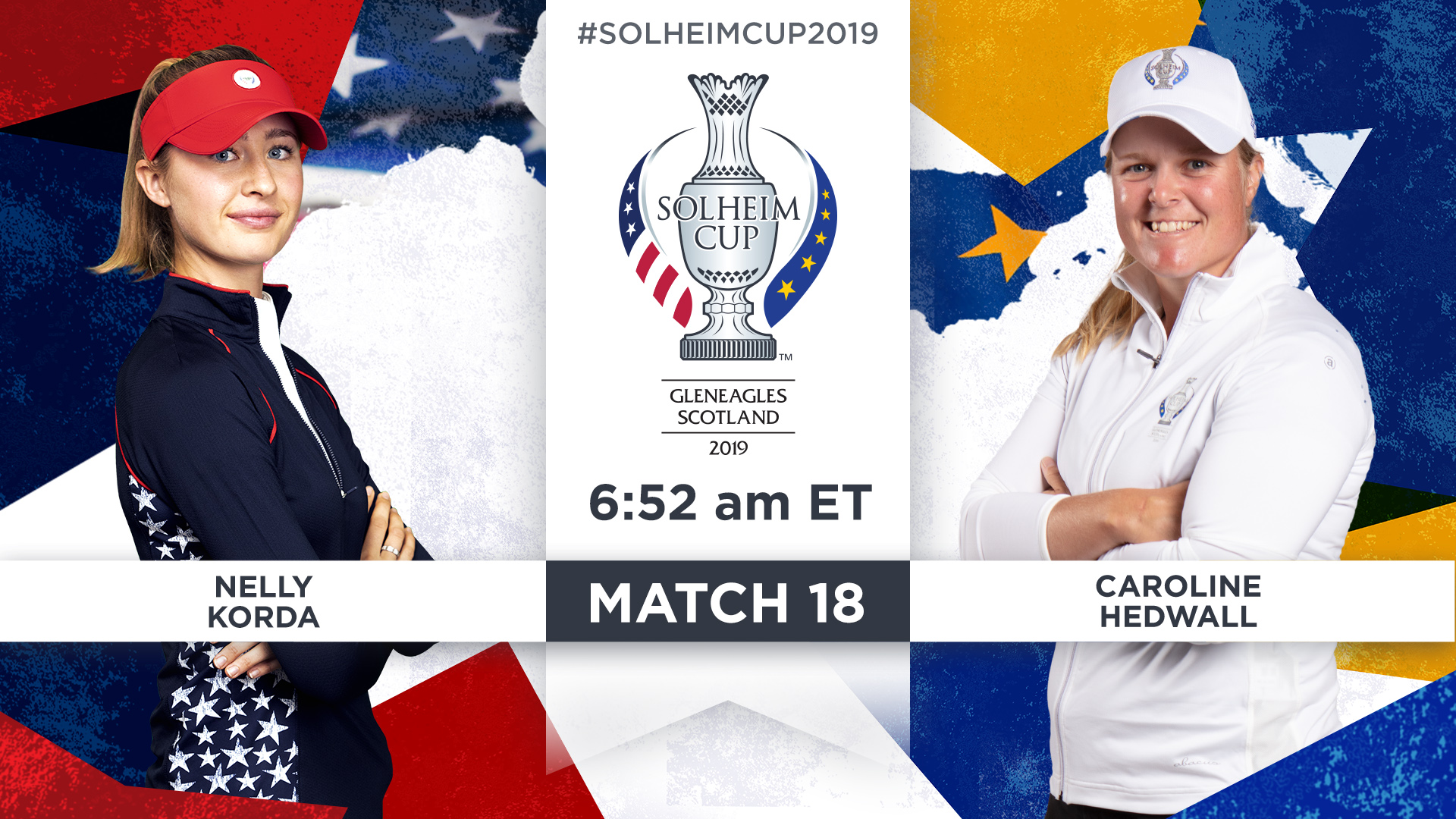 Caroline Hedwall (EUR) vs. Nelly Korda (USA)
Hedwall did not play well in her outing on Friday with Anna Nordqvist while Korda has been a stalwart with her sister, Nelly, in foursomes, as well as scraping out a half with Brittany Altomare in Friday four-balls.
Georgia Hall (EUR) vs. Lexi Thompson (USA)
Hall comes off a successful Saturday performance where she and partner Celine Boutier won both sessions, coming from 4 down in four-balls to beat Ally McDonald and Angel Yin 2 up. Meanwhile Thompson sat out Saturday morning and then halved a crucial four-ball match with Marina Alex against Jodi Ewart Shadoff and Caroline Masson.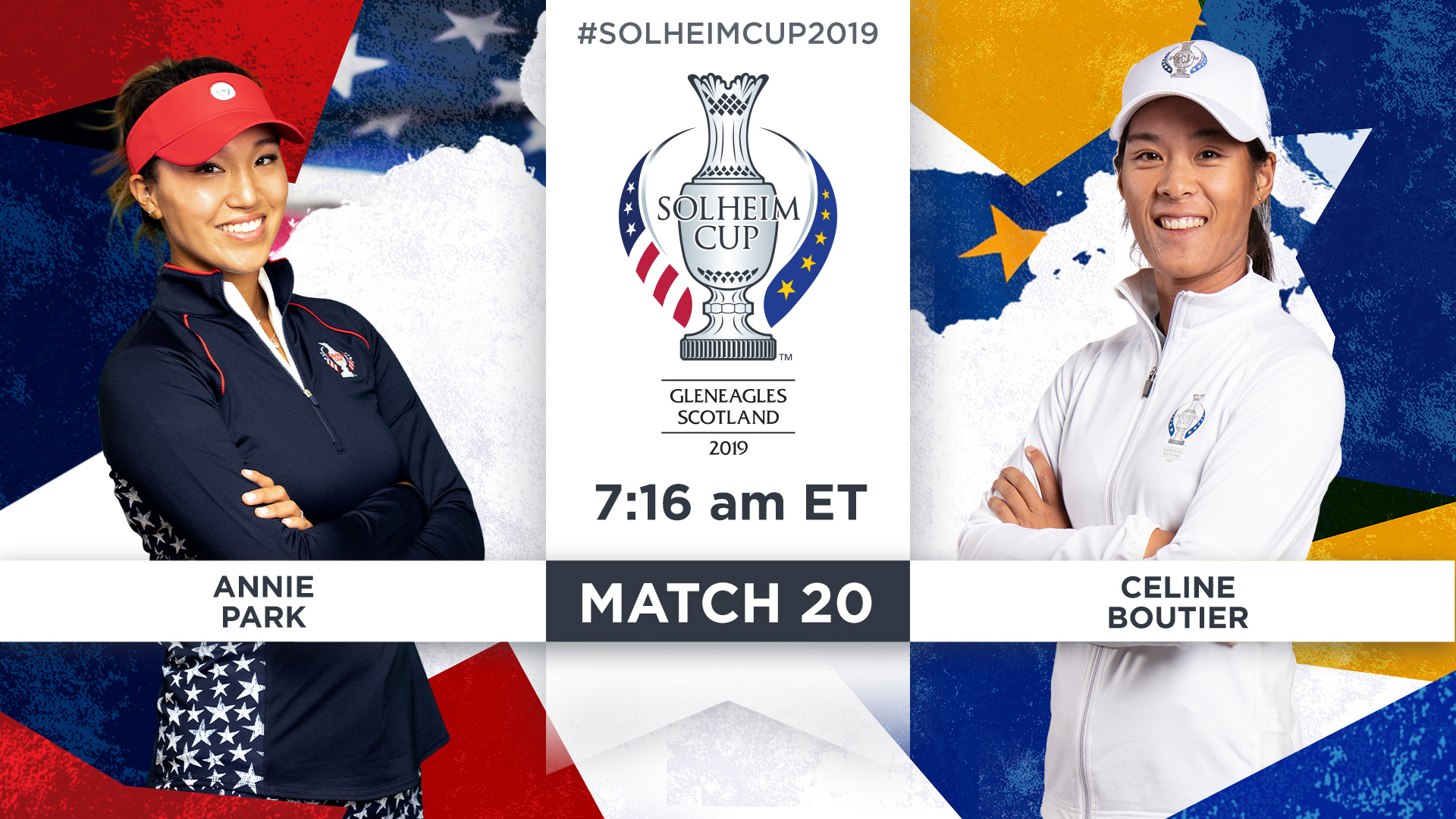 Celine Boutier (EUR) vs. Annie Park (USA)
Boutier had the hot putter in the final nine holes of her four-ball match against McDonald and Yin on Saturday, while Park's putter came to life as she and Altomare defeated the fiery team of Suzann Pettersen and Anne van Dam 1 up.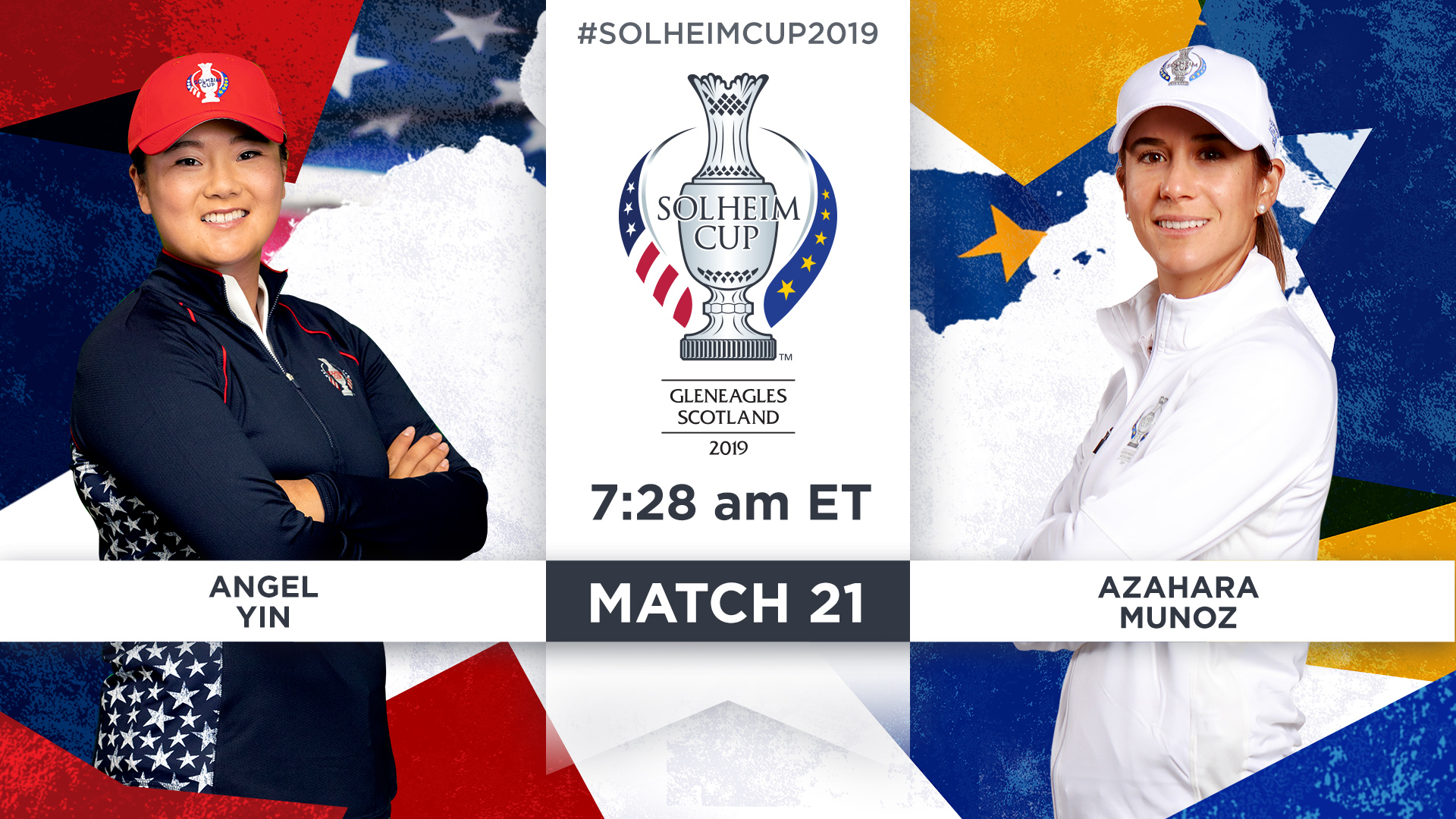 Azahara Munoz (EUR) vs. Angel Yin (USA)
Munoz lost a heartbreaking four-ball match on Saturday in the worst weather conditions of the week, but she has been one of the best ball-strikers on the European side in these matches. Yin, playing alongside McDonald, set a record on Friday. Their 7 and 5 four-ball victory was the largest by any visiting team in Solheim Cup history.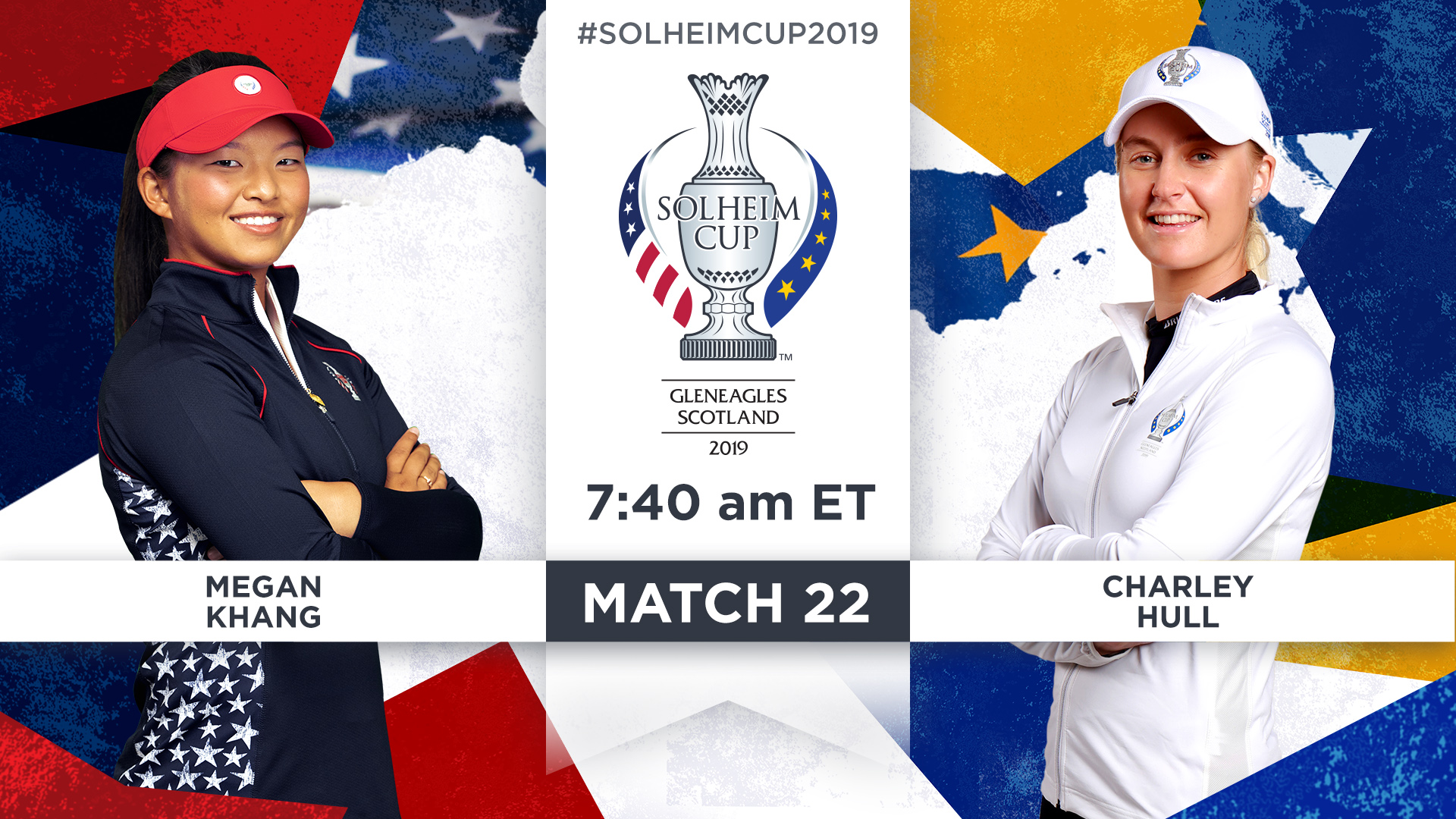 Charley Hull (EUR) vs. Megan Khang (USA)
Solheim Cup rookie Khang is looking for her first point of these matches while Hull, a veteran of the 2013, 2015, and 2017 Solheim Cups, already has 2 ½ points at Gleneagles, including a decisive foursomes victory, along with Munoz, over Khang and Kang.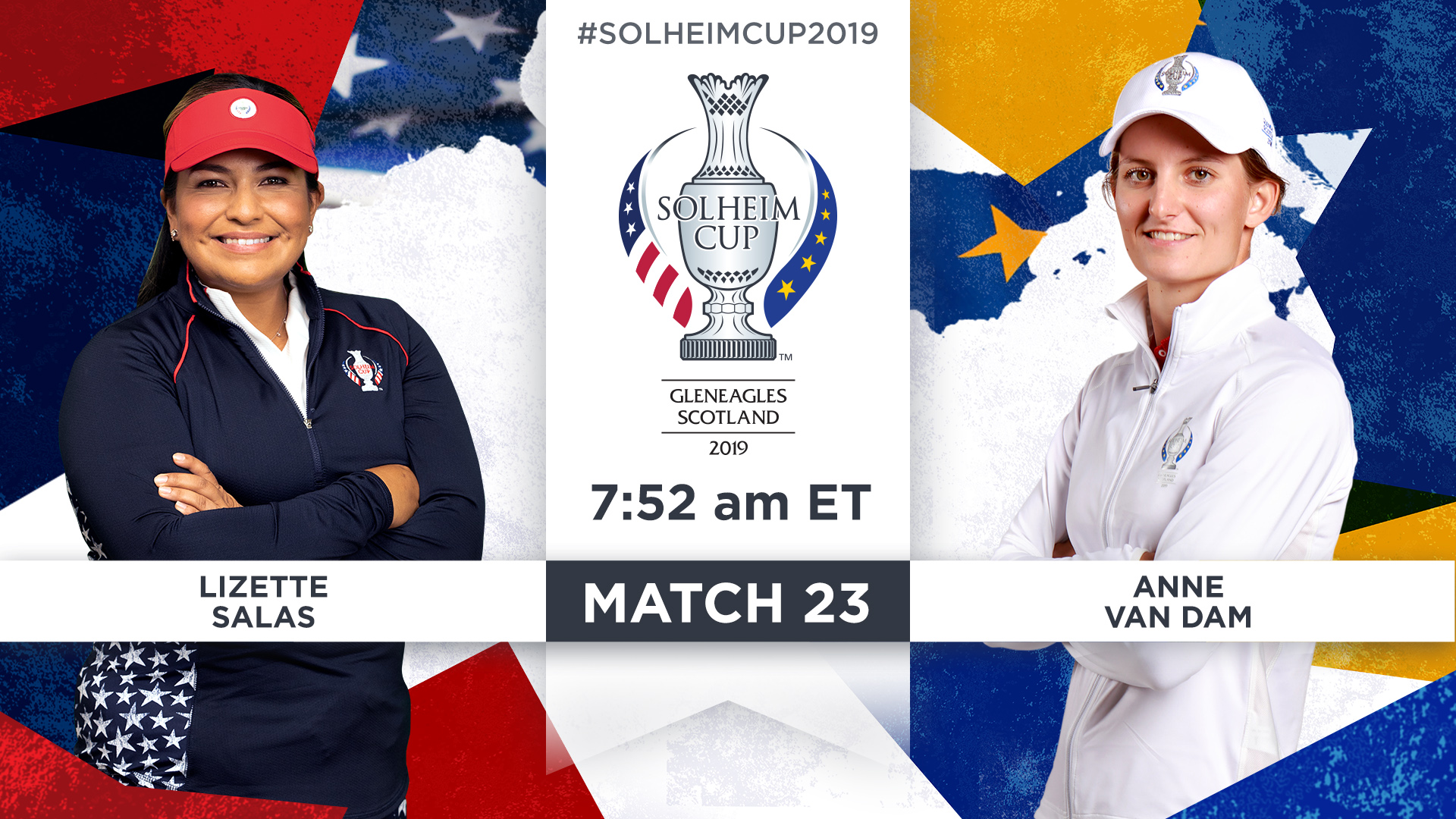 Anne van Dam (EUR) vs. Lizette Salas (USA)
The long-hitting van Dam has been one of the emotional leaders of the European side while Salas has remained a steady and calming presence for several partners in the foursomes and four-ball matches.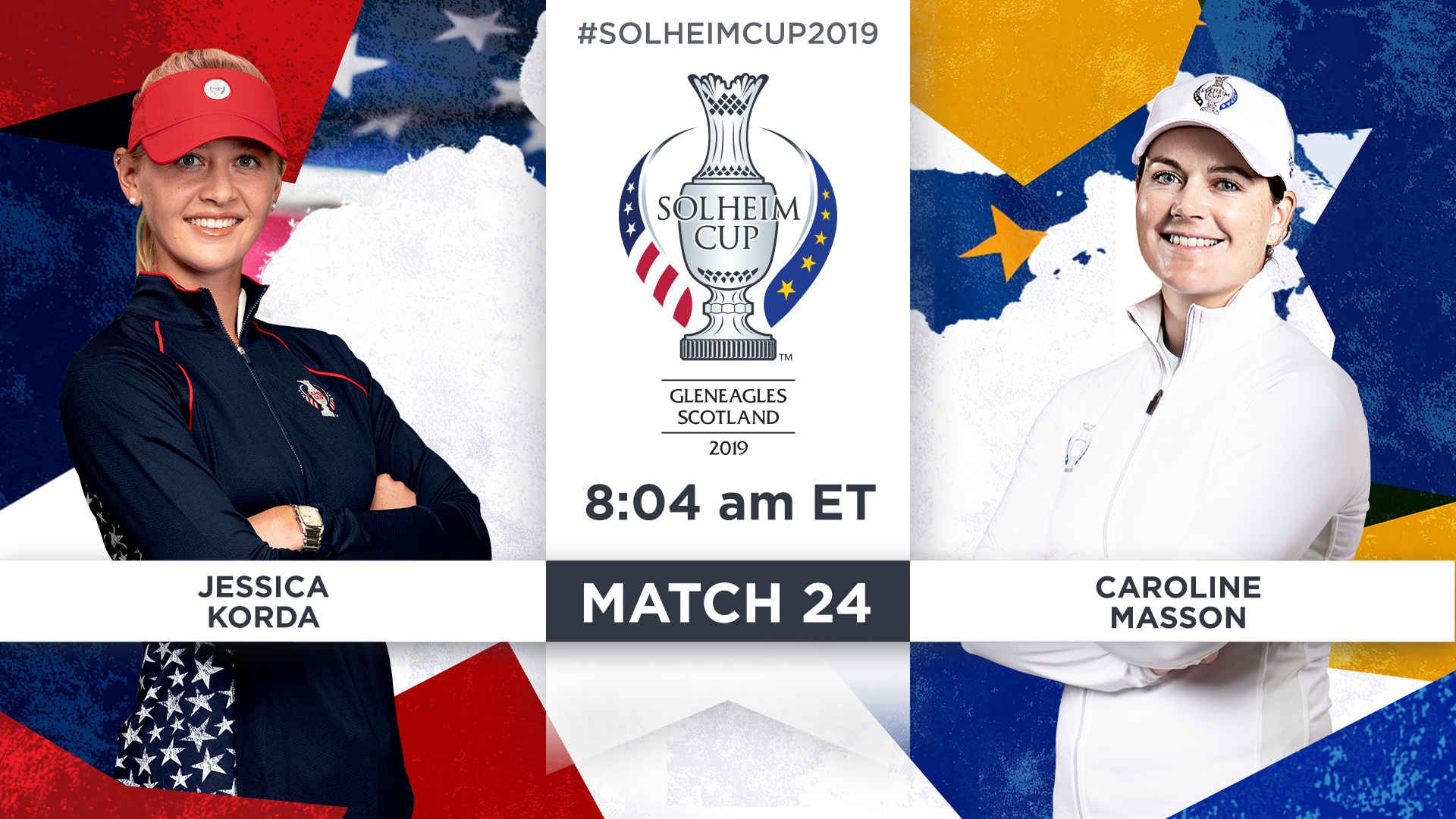 Caroline Masson (EUR) vs. Jessica Korda (USA)
Masson lipped out an 8-foot putt late Saturday afternoon that would have given the Europeans an outright win and the lead going into Sunday's singles matches. Instead, she and Ewart Shadoff halved with Thompson and Alex. Korda sat out on Saturday afternoon after bringing in 2½ crucial points for Team USA.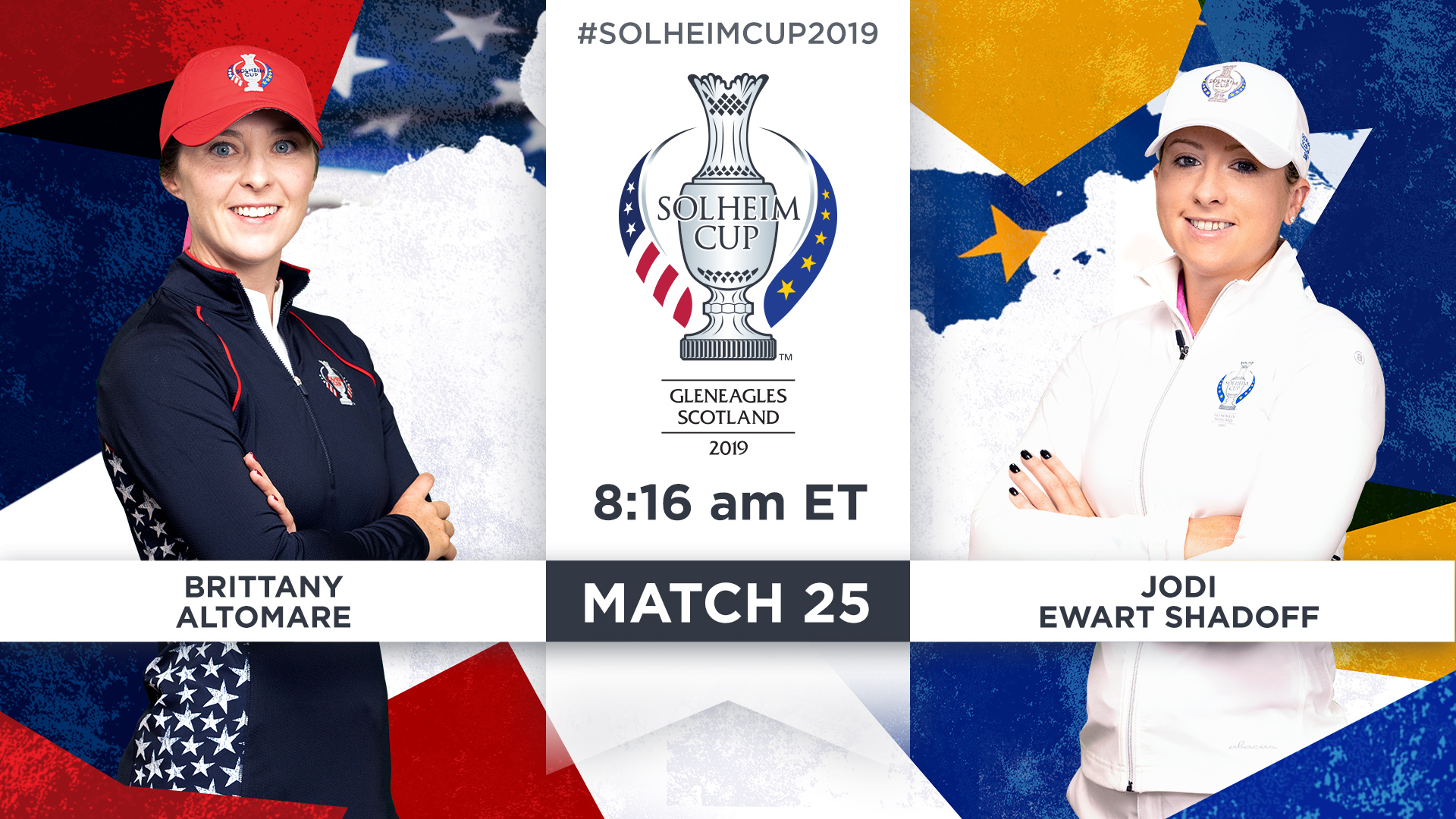 Jodi Ewart Shadoff (EUR) vs. Brittany Altomare (USA)
Altomare has a point and a half so far in her rookie debut, including a crucial victory on Saturday afternoon over Pettersen and van Dam, while Ewart Shadoff has a half-point from only two outings.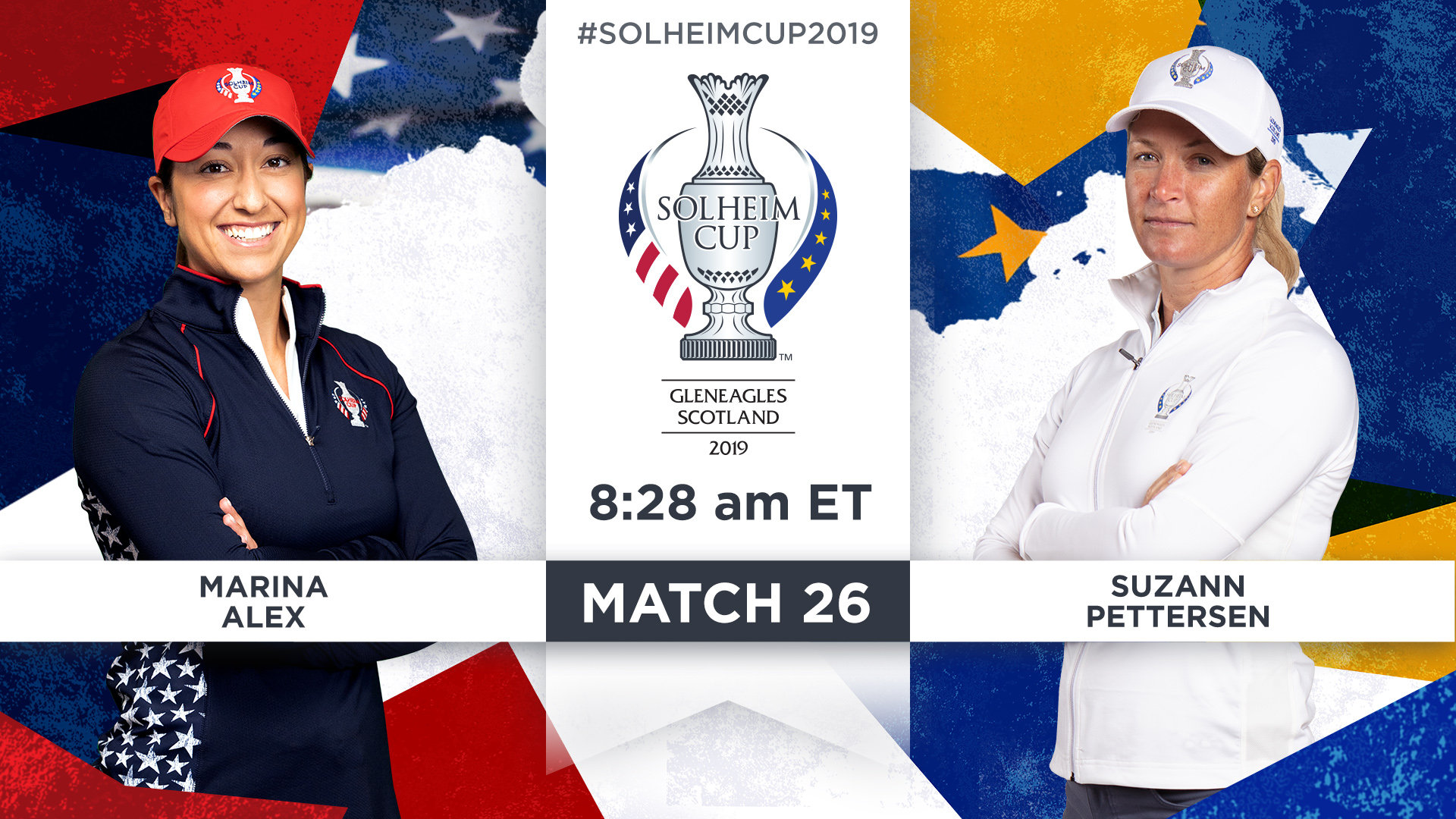 Suzann Pettersen (EUR) vs. Marina Alex (USA)
In the always critical 10th match, Captain Inkster chose to go with her oldest rookie,
Alex, who is undefeated in three matches so far, including a come-from-behind foursomes victory with Morgan Pressel over van Dam and Anna Nordqvist. Pettersen, meanwhile, is 1-1 with van Dam in four-balls.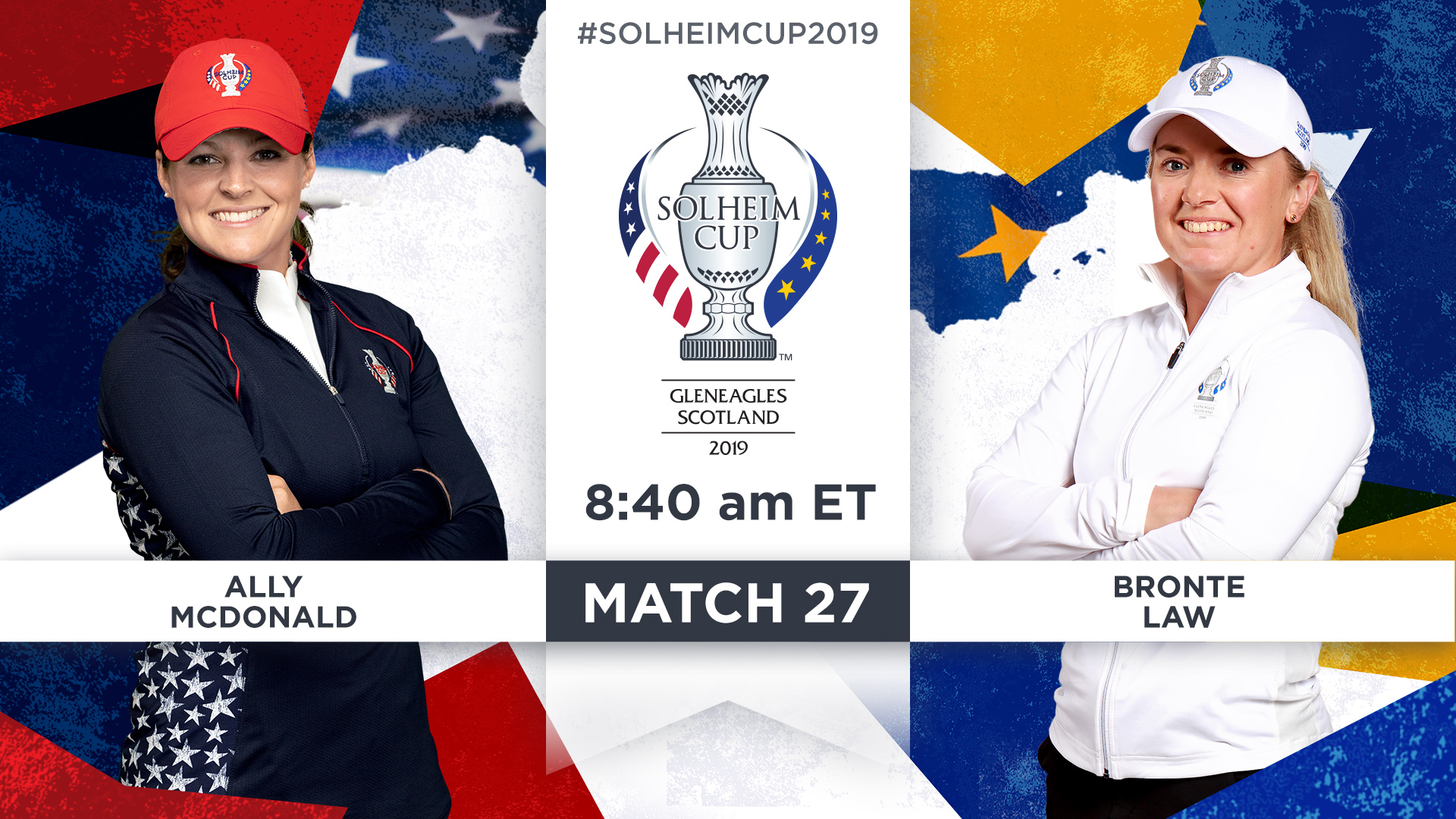 Bronte Law (EUR) vs. Ally McDonald (USA)
The fiery Law sat out Saturday afternoon after going 0-1-2 in three sessions, with a loss and two halves. McDonald, the late addition to the U.S. team who replaced the injured Stacy Lewis, is 1-2-0 after a record-setting win with Yin on Friday and two close losses on Saturday.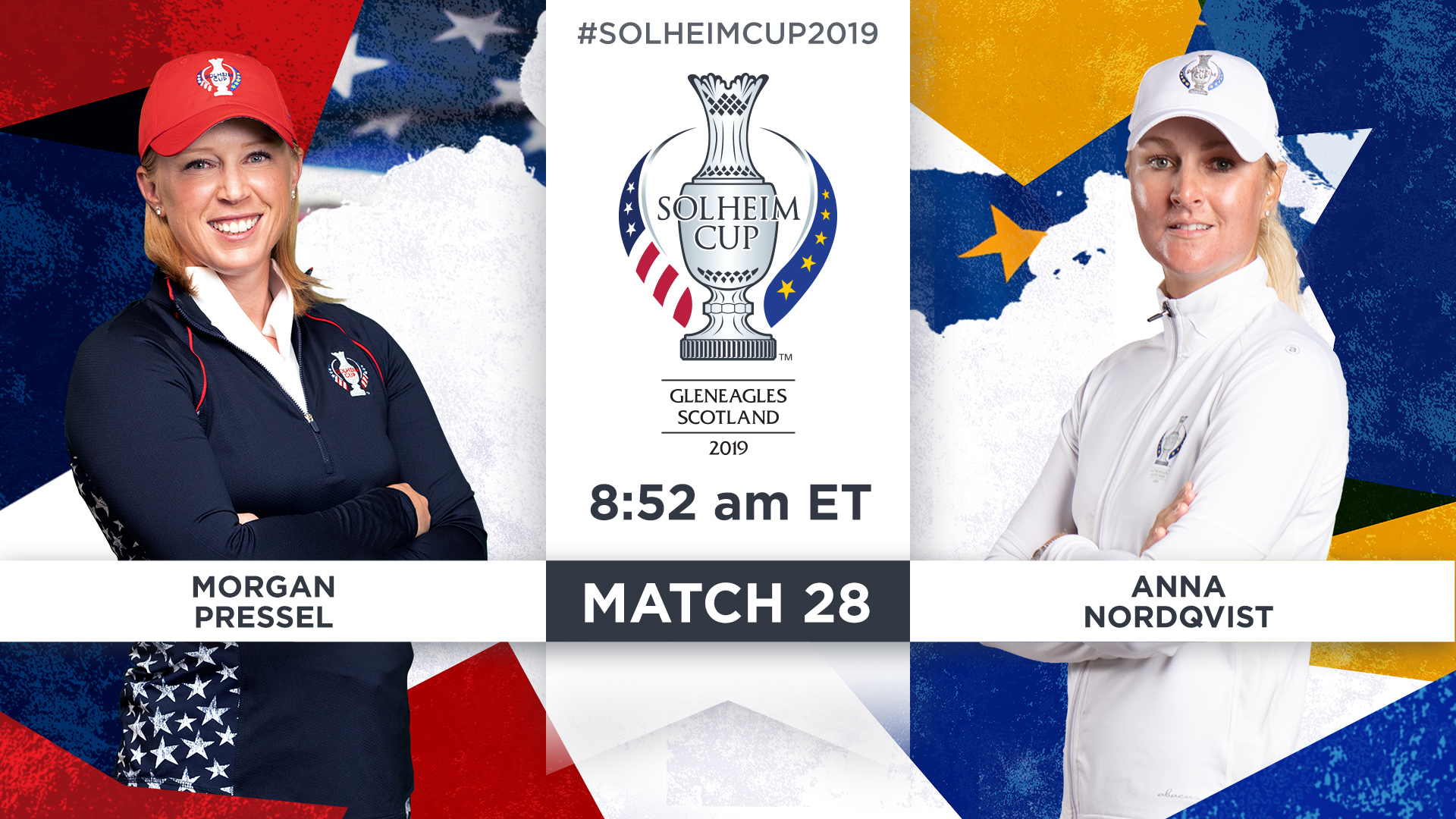 Anna Nordqvist (EUR) vs. Morgan Pressel (USA)
A rematch of sorts as Pressel and Alex defeated Nordqvist and van Dam in Saturday morning's foursomes. Both sat out Saturday afternoon and are rested and ready to go at it again.